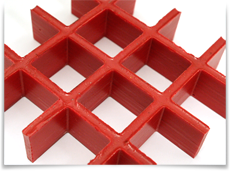 GRP Moulded Gratings are also available with vinylester or phenolic resin. All kinds of resin are self-extinguishing and UV-stabilized.
ISO = Height
(Mesh)
Click on the desired height in the table to the right. Here you can see the load table and the size of the sheets.
Begin by choosing your preferred Moulded Grating
Regularly Moulded GRP Gratings have a polyester resin matrix. Glass content is approximately 35%. Standard colours are green, yellow or grey, other colours are available according to RAL.
Applicable for our gratings we have special support angles which are concreted into the basement directly.
Height / Type
Standard dimensions (mm)
Info
ISO 25

3.660 x 1.220
3.016 x 998
1.988 x 998
998 x 998
ISO 25 micro
1.983 x 995
ISO 30
4.002 x 998
3.660 x 1.220
3.050 x 1.524
3.016 x 998
2.440 x 1.220
1.988 x 998
998 x 998
ISO 30 micro
3.687 x 1.247
3.007 x 1.007
2.007 x 1.007
ISO 38
4.002 x 998
3.660 x 1.220
3.050 x 1.524
3.016 x 998
2.440 x 1.220
1.988 x 998
998 x 998
ISO 38 micro
3.660 x 1.220
3.016 x 998
1.988 x 998
ISO 50
3.660 x 1.220
1.990 x 1.020
ISO 50 SWL
heavy duty
1.988 x 998
ISO 60 SWL
heavy duty
1.988 x 998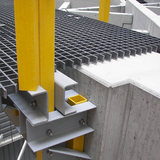 This post is also available in: Swedish Norwegian Bokmål